Summary
BetPawa is an online, live, and mobile sports betting brand belonging to a Kenyan firm called Nanovas International (K) Ltd. The parent company has been licensed to offer online sports betting services by the Betting Control and Licensing Board (BCLB) of Kenya.
Pros
• Decent online and sports betting services
• Great pre-match and live betting options
• Round-the-clock support service
• Great prices and generous win bonuses, and no fees.
Cons
• There aren't any dedicated apps for Android and iOS
• Does not offer any SMS betting or cash-out facility.
BetPawa aims to become one of the biggest online sports betting sites in Kenya, and it is bound to become a success as it also operates in Tanzania, Ghana, Zambia, Nigeria, and Uganda. You can use any device to place bets on BetPawa, including laptops, PCs, smartphones, feature phones, tablets, or laptops.
Here are a few reasons for Kenyan bettors to sign up at BetPawa:
Well Designed Mobile Betting Interface – The mobile betting interface features a professional design and a pleasing color scheme.
24/7 Customer Support – The betting site offers customer support through phone lines, email, Whatsapp, and call back.
Win Bonus – Get a win bonus of up to 100% on winning multi bets.
Referral Bonus – The betting site rewards players for referring their friends to the site
Social Interaction – Interact with BetPawa staff and fellow players on the social networking sites Twitter and Facebook.
Self Exclusion – If players lose control over their betting activities at BetPawa, they can request self-exclusion. They can request the betting site to permanently or temporarily block their gaming account. When they are ready to unblock their account, they can request customer support to do so.
Measures to Prevent Underage Gaming – Players have to be at least 18 to open an account at BetPawa. The betting site conducts age verification checks and does not permit underage customers to use its services.
How to Register and Open a BetPawa Gaming Account

Opening a BetPawa gaming account is easy and involves the following steps:
Click on Log In under Menu on the top right of the website.
The Log In link is also available at the bottom of the website.
An online registration form appears on your screen.
Enter your phone number.
Create a password.
Click on the Log In tab at the bottom.
Verify your phone number by typing the code the betting site sends you through SMS.
Log in to your gaming account and start betting on your favorite games.
Sports Markets – Games to Bet On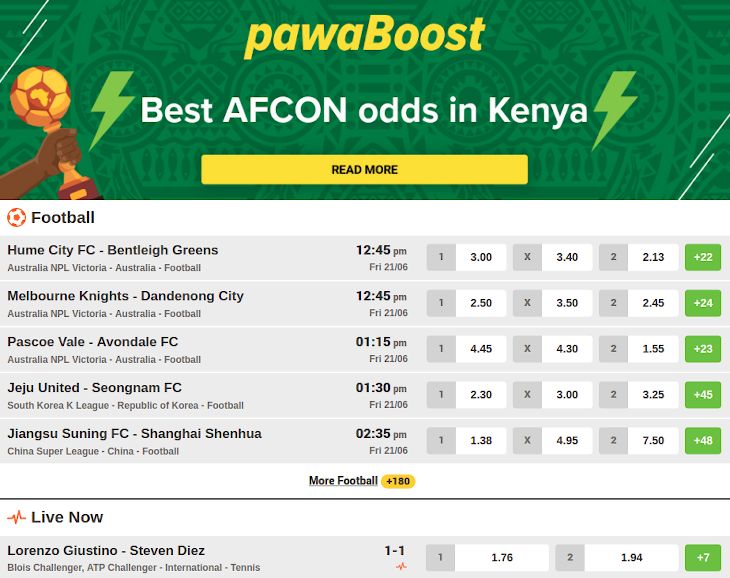 You can bet on the following games at BetPawa Kenya.
Sports Betting – The betting site covers sports events from different parts of the world, including Europe, Spain, England, France, and Germany. It offers the best betting odds on sports markets such as football, basketball, tennis, rugby, American football, volleyball, cricket, and rugby league.
Live Betting – BetPawa offers live betting opportunities for football, basketball, tennis, and other sports.
BetPawa Jackpot – Players have the opportunity to win a jackpot as large as KSh1,000,000 at BetPawa. The ticket costs only KSh10. To win the jackpot, players have to correctly predict the outcomes of 13 games. However, they will win prizes even if they get 10 scores right.
Online Casino – When players need a break from sports betting, they can visit the casino section and play games such as Fortune Miner, Lucky Roulette, Blackjack, Wheel of Luck, and Jacks or Better.
How to Claim Your Win Bonus

If you add more selections to your bet slip, you can claim extra payout of up to 100%.
The win bonus scale is as follows:
10% bonus for 5 – 9 games
50% bonus for 10 – 19 games
100% bonus for 20 – 30 games
For example, if you place a multi bet on five games and win all the games, you will win not only your usual payout, but an extra 10% on your payout.
How to Make a Deposit at BetPawa
To bet on sports at BetPawa, players have to first open an account and load funds into it. The betting site offers only one payment method – M-Pesa. Players need to use a Safaricom phone to use M-Pesa to load their accounts.
The following is a step-by-step guide to using M-Pesa to load your account:
Navigate to the M-Pesa menu on your smartphone or tablet.
Choose Lipa Na M-Pesa and Pay Bill.
Enter the business number as 290020.
Enter the account number as PAWA.
Input the top-up amount in the relevant field.
Input your M-Pesa PIN and hit the Send button.
Both M-Pesa and BetPawa will send you an SMS informing you of the success of your transaction.
How to Request a Payout at BetPawa
When you are ready to withdraw your winnings, you can follow these steps to request payout:
Login to your BetPawa gaming account.
Click on the Menu button on the top right of the casino website.
Click on the "Withdrawal" option.
If the system requests you, input your first and last name.
Input the amount you want to withdraw.
You can withdraw a minimum of KSh200 at a time.
Click on the Request Payout option.
Players can request payout any time they wish. The betting site processes payout requests in 15 minutes. So you don't have to wait much for the winnings to reflect in your account.
Betting on the Move: BetPawa Mobile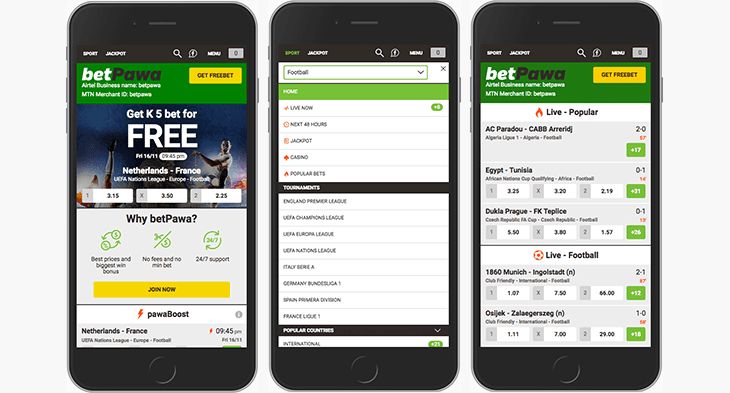 BetPawa does not offer any dedicated mobile betting apps for iOS and Android. But it is fully optimized for mobile betting. Its mobile betting software platform is 100% browser-based, enabling players to bet right in their browser on the move. You just need a BetPawa account and a fast Internet connection.
BetPawa's mobile betting interface is clean, professionally designed, and easy-to-navigate, featuring a pleasing color scheme of white, yellow, and green. If you don't have a BetPawa account, you can easily create an account on the move by clicking on the prominent yellow Join Now button. If you have a BetPawa account, you can click on the Login link in the Menu option to access it.
If you want to view the list of sports betting options at BetPawa, you have to tap on Football in the Sport section. This opens a list of games you can bet on. In addition to placing sports bets, you can play casino games, place live bets, and try winning the football jackpot on the move.
You can use the search symbol on top of the screen to locate a match or tournament. If you are confused, you just have to tap on the Help link in the Menu on the top right to open the help section, which displays a FAQ and different ways to contact customer support.
How to Get Help and Information at BetPawa Kenya
If you need help or information at BetPawa Kenya, you have to click on the Help button. You will find it in Menu on the top right and in the bottom menu of the casino website.
You can visit the Frequently Asked Questions (FAQ) at the bottom of the page for answers to commonly asked questions. If you still need help, you can choose from one of the following options:
Call Back – Enter your phone number in the given field and request the betting site to give you a call by clicking on the Call Me button.
Whatsapp – Send the betting site a Whatsapp message on the number 0707 097 883.
Phone Lines – Call the betting site on the Safaricom numbers 0711 082 999 or 0790 353 079 or the Airtel number 0739 892 368.
Facebook – Interact with BetPawa on its Facebook page (facebook.com/betPawa.co.ke)
Twitter – Follow BetPawa on its Twitter account (twitter.com/betPawaKE).
Email – Email your doubts, feedback, and questions to [email protected]
Visit – Visit the BetPawa's offices at The Mirage, Tower 2, Level M2, Office #1, Chiromo Road, Westlands, Nairobi 00800.
Postal – Send a letter to PO Box 14941, Westlands, Nairobi 00800.
BetPawa Kenya FAQs
Q1: What should I do if I have a complaint?
A: You should immediately send an email or call the company. BetPawa does its best to resolve disputes. If you are not satisfied with the way BetPawa handles your issue, you can approach the Kenyan Betting Control and Licensing Board, which has granted a license to the betting site.
Q2: What is the minimum bet amount at BetPawa?
A: Players can bet a minimum KSh1.
Q3: How much can I win on one ticket?
A: You can win up to KSh2,500,000 on one ticket.
Q4: Why does BetPawa conduct verification checks?
A: It is all part of BetPawa's anti money laundering policies. The betting site requires players to provide identification documents such as address proof, utility bills, bank statements, and others for purposes of verification.
Q5: How much can I withdraw at a time?
A: You can withdraw anywhere in the range of KSh200 to KSh1,000,000 at a time. But you cannot withdraw more than KSh3,000,00 per 24-hour period.
Pros & Cons of Betting at BetPawa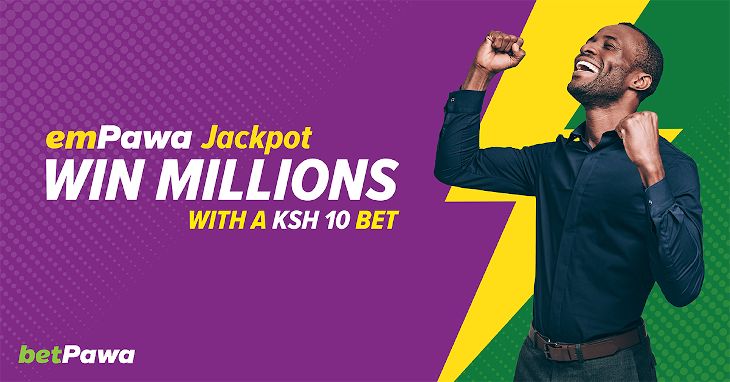 Having researched quite a few Kenyan sports betting sites, we found BetPawa lacking in several aspects. BetPawa offers decent online and sports betting services, but they are definitely not the best. The online sports betting site does not cover as many sports markets as some of the bigger betting sites in Kenya. If you sign up at BetPawa, you will find some great pre-match and live betting options, but you will end up craving a wider range of sports markets to bet on.
As for customer support, BetPawa offers excellent, round-the-clock support through telephone, Whatsapp, social media, and email. However, we couldn't find a live help facility anywhere. We found this a bit frustrating because it is difficult to obtain the required information and the FAQ section is rather limited. A live help option would have been greatly appreciated.
On the brighter side, BetPawa offers great prices and generous win bonuses, 24/7 customer support, and no fees. The mobile betting interface is excellent, but BetPawa only offers in-browser mobile betting services.
On the downside, there aren't any dedicated apps for Android and iOS at BetPawa. Also, BetPawa does not offer any SMS betting or cashout facility.
Our Take on BetPawa – Should You Register?
If you are looking for an innovative mobile betting experience, BetPawa Kenya will be a source of great disappointment for you. It is just a simple online and mobile sport betting service that covers a handful of sports markets. The company has thrown in a few online casino games and a football jackpot to spice things up.
If you sign up at BetPawa, you will miss features such as a dedicated iOS and Android apps, cashout, live support, SMS betting, and an exhaustive knowledge base. But you will get a licensed and well-regulated online and mobile betting environment and generous win bonuses on your multi bets.