Summary
mCHEZA offers mobile and online pre-match and live in-play sports betting services to Kenyan residents. It belongs to Acumen Communications Limited, a company that operates under a license issued by the Betting Control and Licensing Board (BCLB) of Kenya. mCHEZA is a robust, safe, secure, entertaining, trustworthy, and well-managed online and mobile betting platform for Kenya's sports betting enthusiasts.
Pros
• Excellent custumer support
• Hundreds of sports markets
• Greate bonus offers
Cons
• Very difficult to get the required information
Here are a few reasons for Kenyan bettors to sign up at mCHEZA:
Licensed and Well-regulated – Betting at mCHEZA is safe and secure because it operates under a Kenyan license.
M-Pesa Banking – Kenyan players can use a local, familiar, safe, and secure banking method for deposits and withdrawals. And that is M-Pesa.
Customer Support – mCHEZA offers excellent customer support through live chat, phone lines, and email. There is also a comprehensive Frequently Asked Questions (FAQ) section.
Mobile App for Android – Users of Android smartphones and tablets can download the dedicated mobile betting app for Android.
In Browser Betting – If downloading an app appears to be a bother, you can play in your mobile device browser without downloading any app or third-party software.
SMS Betting – You can place bets through SMS or phone even if you don't have an Internet connection.
mCHEZA supports responsible gambling and encourages players to gamble in a responsible manner. Players have to be at least 18 to place real money bets at mCHEZA.
Quick Registration Guide – How to Open an Account at mCHEZA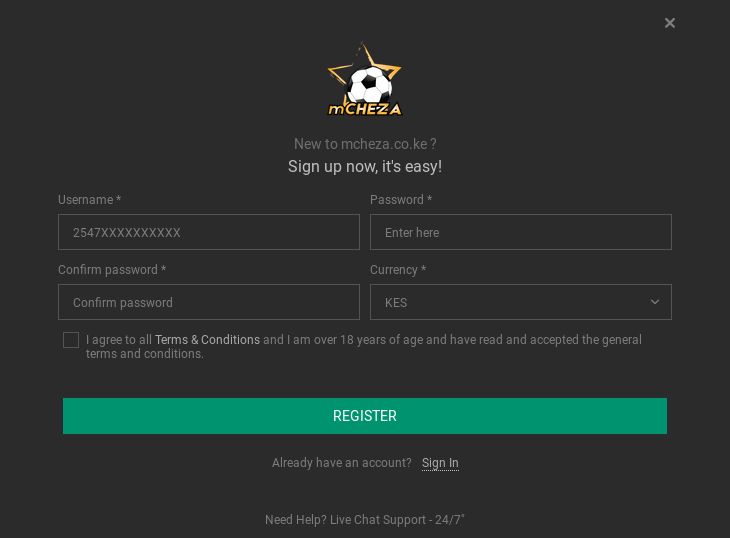 Opening an account at mCHEZA is quite easy and involves the following steps:
Click on the green Register link on the website.
An online registration form pops up on your screen.
Create your log in details and select your currency.
Check the box to indicate that you agree to all the terms & conditions of mCHEZA and that you are above the age of 18.
Click on the Register option to complete the online registration procedure.
You will have to verify your mobile number by entering the code the betting site sends you through SMS. Once you have verified your mobile number, you can sign in and start playing.
Multibet Bonus of 50%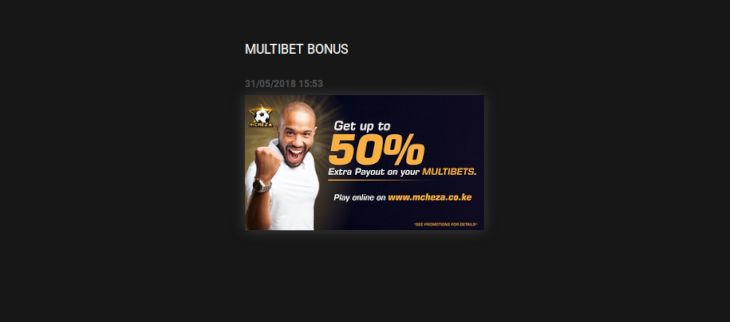 mCHEZA offers 150% payout on players' winning multibet. Players can claim up to 50% extra cash on their winning multibet as follows:
10% for five games or six games
15% for seven games
20% for eight games
25% for nine games
30% for ten games
50% for 10+ games
And here are the rules:
The selected games should have minimum odds of 1.5.
To claim a bonus, the multibet should have at least five games.
Only winning multibets qualify for the bonus.
Only online bettors qualify for this bonus.
Sports Markets – Games to Play at mCHEZA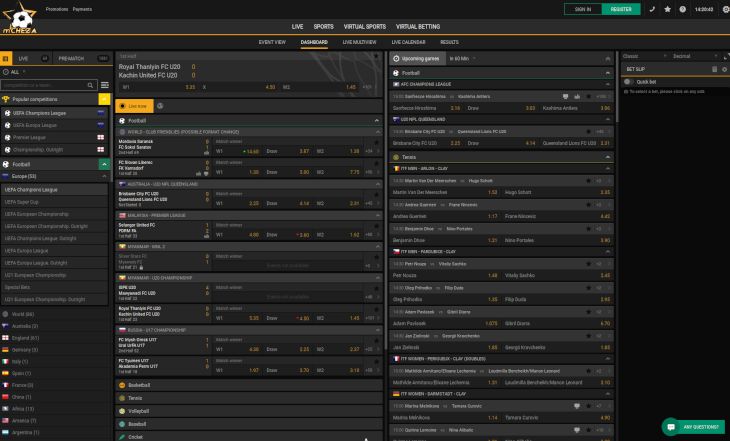 mCHEZA offers the following betting options:
Pre-match Betting – Pre-match betting is available on sports markets such as football, tennis, basketball, volleyball, baseball, table tennis, handball, American football, MMA, boxing, politics, Formula 1, badminton, snooker, field hockey, cricket, rugby, and many others.
Live Betting – Betting greatly enhances the experiences of watching a live match. mCHEZA offers live in-play betting on sports markets such as football, tennis, basketball, volleyball, baseball, table tennis, handball, badminton, snooker, field hockey, cricket, and others.
Virtual Betting – mCHEZA also offers virtual sports betting options.
Bet on the Move at mCHEZA

mCHEZA offers two ways of betting on the move:
In Browser Betting
mCHEZA offers a neat, compact, uncluttered, and easy-to-navigate mobile betting interface. Players just have to visit mCHEZA on their smartphone or tablet browsers to start betting on the move.
They can log in to their existing accounts or create a new one. The login and join options are on the top right of the screen. To view the sports markets and place mobile sports bets, players have to click on the menu symbol on the top right of the screen.
The bottom of the screen allows players to choose their language, sportsbook layout, and odds format. It also displays a number of links to important pages such as About Us, Contact Us, FAQs, Responsible Gambling, and others.
Download the App
mCHEZA offers a dedicated mobile betting app for Android devices. When you visit mCHEZA on your Android device, the betting site will prompt you to download the app. You just have to click on the Download button to initiate the download and installation process. Otherwise, you can just opt to bet in your browser.
If you choose to download the native betting app for Android, you may have to navigate to the settings page and enable your device to accept files from unknown sources. This is because you will not be downloading the app from Google Play Store.
How to Deposit through M-Pesa

You can top-up your mCHEZA account using M-Pesa. The following is a step-by-step guide to doing so:
Navigate to Deposit in Amount next to your profile icon on the top right of the website.
Choose Deposit to navigate to the payment field.
Enter the account name MCHEZA.
Enter the Paybill number 295525.
Enter the top-up amount and phone number.
M-Pesa will send you an SMS asking you to confirm the transaction with your M-Pesa PIN.
You will then receive confirmation messages from both M-Pesa and mCHEZA informing you of the success of your transactions.
Making M-Pesa deposits at mCHEZA is free and instant. You can deposit anywhere in the range of KSh10 to KSh140,000.
How to Withdraw Winnings through M-Pesa
You can withdraw your winnings whenever you please by following these simple steps:
Navigate to Withdraw in Amount near your profile icon on the top right of the website.
Choose Withdraw to navigate to the payment area.
Insert your phone number and the withdrawal amount.
The betting site will credit the winnings directly to your account.
Both mCHEZA and M-Pesa will send you a confirmation email informing you of the success of the transaction.
Making M-Pesa withdrawals is free of charge. It takes up to 12 hours for the funds to reflect in your account. You can withdraw anywhere in the range of KSh10 to KSh140,000.
How to Get Help and Information at mCHEZA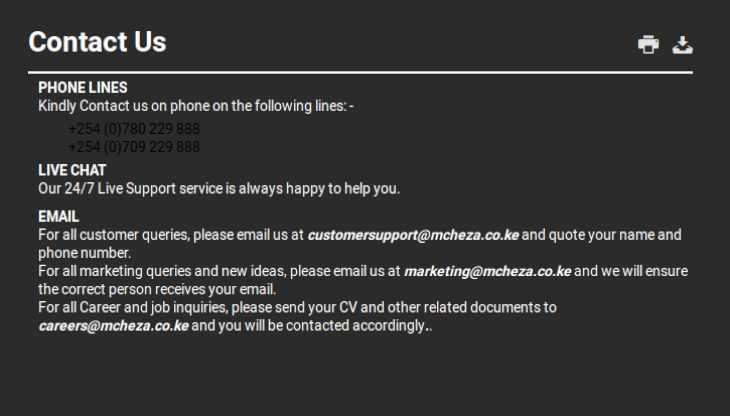 The easiest way to get answers is to visit the Frequently Asked Questions (FAQ) section as it has listed all of the commonly asked questions with specific answers. Beginners usually find answers to their questions in the FAQ. If they don't, they can try the following methods to get in touch with a customer support agent:
Phone Lines – Contact the online casino on the phone lines +254 (0) 789 229 888 or +254 (0) 709 229 888.
Live Chat – Click on the "Any Questions" tab on the bottom right of the betting site to launch the live chat window. Enter your name, email address, and ID and click on the arrowhead to initiate chat with a friendly and well-trained customer support agent.
Email – Send an email to [email protected] along with your name and phone number to get a quick and courteous response. If you have any marketing related questions, you can send an email to [email protected]
Social Interaction – You can interact with mCHEZA staff members and fellow players on social networking sites such as Instagram, Twitter, Facebook, and YouTube.
Leave Feedback – If you want to criticize or praise mCHEZA or just leave behind some feedback, you can click on the yellow Feedback button at the bottom right of the website. This opens an online feedback form, in which players have to input their email address and message and then click on the Send button.
mCHEZA Kenya FAQs
Q1: Why should I reveal my personal information while registering?
A: mCHEZA needs your first name, last name, and current residential address to manage your account well. When you reveal your date of birth, you let mCHEZA know that you are of the legal age to gamble. The betting site needs your email address so that it can communicate with you and help you in cases where you have lost your account details.
Q2: Should I make a deposit as soon as I register an account?
A: You don't have to as mCHEZA never forces its registered players to deposit. You can take your time to explore the betting site before you make a deposit.
Q3: What is the winnings limit at mCHEZA?
A: The winnings limit at mCHEZA varies from player to player. The betting site informs players about their winning limits as soon as they place a bet.
Q4: Can I cancel bets I placed by mistake?
A: You can cancel bets before confirming them in your bet slip. However, you cannot cancel a bet after confirming it.
Q5: How can I prevent someone else from gaining access to my mCHEZA account?
A: Remember to log out of your account after every betting session. Also keep your login details secret.
Pros and Cons of Betting at mCHEZA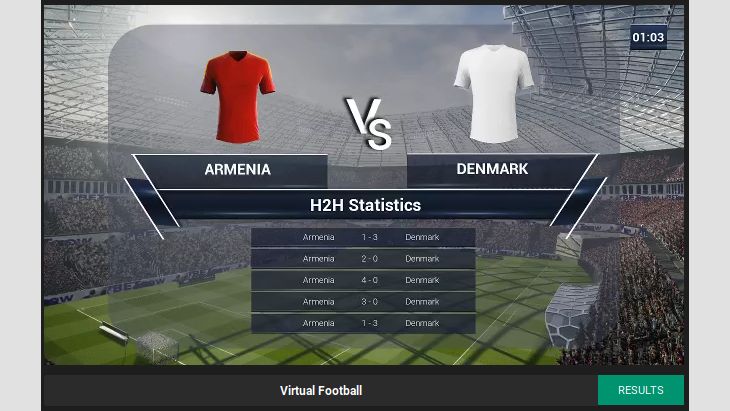 mCHEZA is a great Kenyan online sports betting site. But like all great betting sites, it has a few flaws. In the first place, we found it very difficult to get the required information. We feel that the betting site should make its online betting interface player friendly as we had to do a lot of navigation to find the simplest information. On the brighter side, customer support is excellent. mCHEZA's trained and friendly customer support representatives are willing to assist you at any time of the day or night.
While mCHEZA offers hundreds of sports markets along with pre-match and live in-play betting, it doesn't offer some online gambling products that can spice up the sports betting experience. We could not find any football jackpots, lucky numbers, bingo, poker, or online casino games. On the brighter side, mCHEZA has some generous bonus offers. It also comes with the cashout feature, which enables players to cashout their bets whenever they please, either before the game begins or during play.
As for mobile betting, mCHEZA offers an excellent in-browser mobile betting interface, which enables you to bet on the move without downloading any app. It also offers a dedicated mobile betting app for Android devices, but not for iOS devices.
mCHEZA Mobile does not consume too much data, and you can place bets even if your Internet connection lets you down. All you have to do is SMS Play to 29888 or dial *629#.
Our Take on mCHEZA
So should you register an account at mCHEZA? We strongly recommend mCHEZA for Kenyan sports bettors. Despite its drawbacks, mCHEZA offers excellent sports betting services and a great customer service. The best features of this Kenyan betting site are its player friendly mobile betting interface, multibet bonus offers, and cashout. So if you are going to pick a sports betting site to sign-up, mCHEZA is the way to go.