Summary
SportyBet is an online sports betting and live betting site that also offers virtual betting and a jackpot that can make you very rich if you make the correct predictions. You can register at SportyBet in an instant. Simply enter your mobile number and click on the green Register button right on the homepage. If you have a Facebook account, you can use it to login as well.
Pros
• Safe, secure, and licensed
• Excellent customer support
• Bonuses and promo offers
Cons
• No casino and lucky numbers betting
Here are a few reasons for Kenyan bettors to sign up at SportyBet.com:
Well Designed Online Betting Site – We found the SportyBet user interface to be attractive, well-designed, neat, and professional. We also found it a bit cluttered, but it isn't difficult to find the games, betting markets, and information you are looking for. And if you need help, you just have to click on the red Help icon at the bottom right to connect with a customer support agent.
Quick Registration – As already mentioned, you can get registered in a fraction of a second at SportyBet Kenya.
First Deposit Bonus – SportyBet.com welcomes players with a first deposit bonus if they make a qualifying deposit of at least KSh250.
Cashout – SportyBet offers the cashout feature so that you can secure your bets, cut your losses, and save your profits.
Licensed and Regulated – SportyBet operates under a valid license issued by the BCLB.
Local Payment Methods – Deposits and withdrawals are fast and easy with M-Pesa.
Responsible Gambling – SportyBet encourages its bettors to gamble responsibly. If you feel that you have become a problem gambler, you can request the online betting site to exclude you from its services for a specific time frame.
How to Open an Account at SportyBet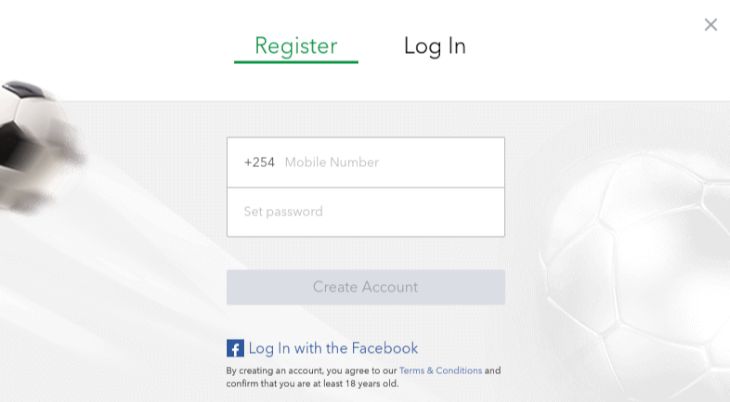 SportyBet gives you the option of signing up through Facebook. If that doesn't work for you, here is a quick guide to getting registered at SportyBet in just a few minutes:
Click on the white Register link next to the Facebook link on the top right of SportyBet.
A simple registration form pops up on your screen.
Type your mobile number.
Set your password.
Hit the Create Account link to proceed.
You will be automatically agreeing to SportyBet's terms & conditions and confirming that you are at least 18 years old by creating an account at SportyBet.
Confirm your mobile number by typing the code the online casino sends through text message.
The next step is to log in and start betting on your favorite sports markets.
SMS Registration: If you are looking for a simpler way to register at SportyBet, there is a way. Simply SMS "Join" to 29123. The online betting site will automatically open an account for you and send you the login details through SMS. You just have to use those login details to access your SportyBet account and start betting.
Instant Registration: If you don't want to fill in long forms, you can fill in the instant registration form on the homepage. Just enter your mobile number and click on the green Register link. Confirm your mobile number by entering the code the online casino sends through SMS. You can now log in and start playing.
SportyBet Promotions and Bonus Offers – Ways to Boost Your Bankroll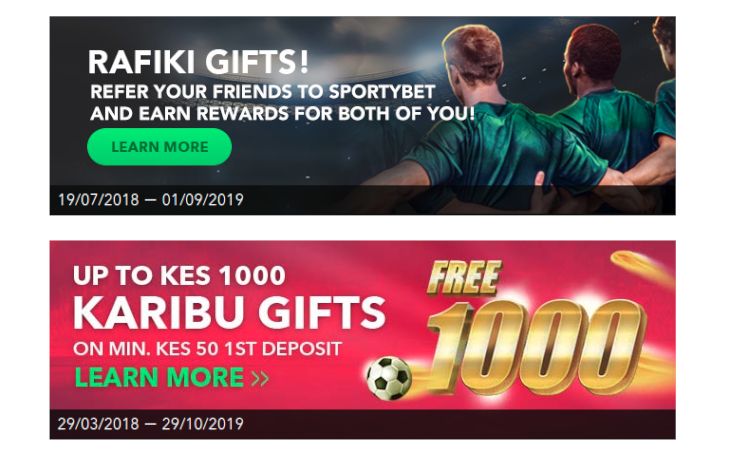 SportyBet designs a number of promotions to spice up its online betting experience and give players an incentive to bet.
Here are details of some of the most popular ongoing promotions at SportyBet:
Rafiki Gifts – If you refer your friends to SportyBet Kenya, the online betting site will reward both of you.
Karibu Gifts – You can claim karibu gifts on your first deposit amount at SportyBet Kenya. However, the value of the gifts you can claim depends on your deposit amount. You can claim gifts worth KES150, KES300, KES600, and KES1000 on first deposits of KES50, KES100, KES200, and KES300, respectively.
SportyBet keeps updating its promotions on a regular basis. So you should be alert enough to grab an offer as and when it comes.
Guide to Making a Deposit

Once you have opened an account at SportyBet Kenya, you have to load it with funds to start placing real money bets.
The following are two ways to make deposits into your SportyBet account:
Online Deposit
The steps to making an online deposit are as follows:
Input your top up amount.
Click on the "Top up Now" link.
Type your service PIN on your mobile number to authorize the payment.
Click on the Completed link.
You will see the funds in your gaming account.
Paybill
Here is a guide to make deposits with Paybill:
Visit the M-pesa menu and choose Payment.
Click on the Paybill option.
Type 202202 for business number and SportyBet for account number.
Input the amount you want to load into your account.
Type your M-pesa PIN and click on the Confirm option.
M-pesa will send you a text message to let you know that your transaction was a success.
Guide to Withdrawing Winnings
When you are ready to withdraw your winnings from your SportyBet account, you have to follow these steps:
Click on the Withdraw option under My Account.
Input the amount you want to withdraw.
Click on the Withdraw option.
The online casino will verify your payout request and credit your winnings to your M-pesa account.
Carrier fees apply to all withdrawals at SportyBet.
Betting on the Move at SportyBet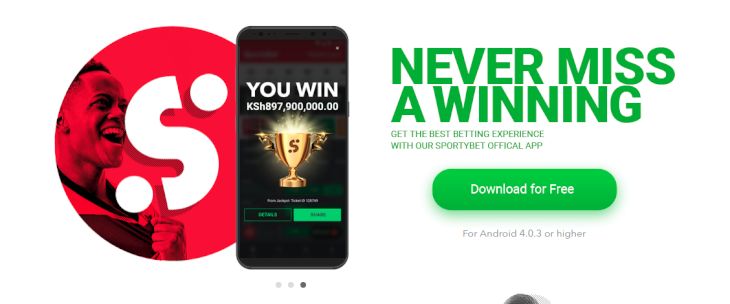 If you are Kenyan, you would prefer betting on the move. You can easily do so by downloading the native SportyBet app for Android 4.0.3 or higher. The app includes all the best features of SportyBet's desktop version. For example, you can use the cashout feature to control your bets, cut your losses, and guarantee profits for yourself.
If you are worried about data usage, you can smile because the SportyBet app for Android is fast and light. You can bet as much as you please without spending more than 6MB of your precious data.
You can choose from three ways to download the SportyBet app on your device:
Download by scanning the QR code with your mobile device.
Visit SportyBet on your mobile device and click on the Download link to initiate the download procedure.
Enter the download address http://sporty.bet/keapp in the browser of your smartphone to download and install the app.
SportyBet Sports Markets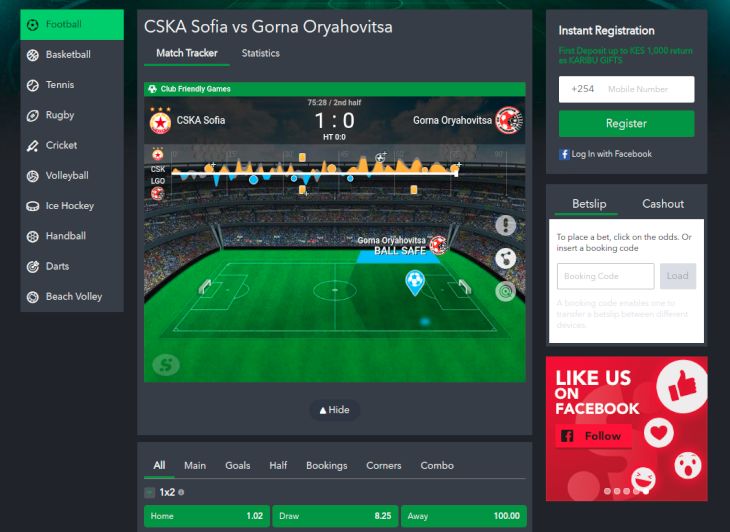 You can choose from several betting options at SportyBet Kenya:
Online Sports Betting – The online betting site offers the best odds on sports markets such as basketball, football, rugby, tennis, volleyball, cricket, ice hockey, darts, handball, and beach volley.
Live Betting – Live betting enhances the experience of watching a match as it allows players to bet as the action unfolds before their eyes. SportyBet offers the best live betting options on sports such as rugby, tennis, basketball, ice hockey, volleyball, cricket, handball, beach volley, and darts.
Virtuals – You can bet on virtual games such as horse racing, greyhounds, bike racing, league, and speedway.
SportyBet Jackpot – If you are good at predicting games, you can win a jackpot as large as KES5,000,000 at SportyBet. You have to predict 12 games correctly to win the jackpot. However, you can still win prizes if you get one or two games wrong.
SportyBet FAQs
What is the maximum amount I can win?
You can win a maximum amount of KES1,000,000 while betting on sports. However, there is no limit for jackpot payouts.
How many selections can be added to a betslip?
You can add up to 30 selections to your betslip.
Does SportyBet charge for withdrawals?
Making withdrawals is absolutely free of charge at SportyBet. However, if you withdraw less than KES500, you have to pay a carrier fee of KES16.
How long should I wait to receive my winnings?
If you have withdrawn less than KES140,000, you should get your money instantly.
How can I use cashout?
You only have to choose the cashout option in your betslip. But you must note that you can avail of this feature only in case of stakes exceeding KES100.
Getting Help and Information at SportyBet

Information is freely available on SportyBet Kenya's website. We suggest checking out sections such as About Us, Terms & Conditions, Responsible Gambling, and Privacy Policy. The online betting site also offers a comprehensive Frequently Asked Questions (FAQ) section and SMS tutorials.
You can like the SportyBet on Facebook (https://www.facebook.com/sportybetke) and follow it on Twitter (https://twitter.com/sportybetke) to get the latest updates and information. You can also interact with SportyBet staff and fellow players on these social networking sites.
If players still feel the need to contact a customer care representative, they can either write to [email protected] or call the online betting site on the number 020-764-0825.
If you want quick assistance, click on the red Live Chat icon at the bottom right of the website. This launches the live chat window with a search bar. Type your issue or question in the search bar to get the information you require. If you still need to talk to a customer support agent, click on the Live Chat button on the bottom. Enter your phone number and click on the Start chat link at the bottom to initiate live chat with a customer support agent.
Pros and Cons of Betting at SportyBet

If you are looking for a safe, secure, and licensed place for online sports betting in Kenya, you can sign up at SportyBet without hesitation. SportyBet offers almost everything a Kenyan online bettor can ask for—hundreds of betting markets to choose from, options to bet on a wide range of local and international betting events, excellent customer support, bonuses and offers, football jackpots, virtual games, and much more.
If you choose to register via SMS or opt for the instant registration feature on the homepage, you can get started in a few seconds. But there are few cons to playing at SportyBet. Although the website design is professional, it is rather cluttered. This means a lot of scrolling and navigation, which will make you impatient.
Although the online betting site presents a lot of information about its responsible gambling policy, privacy policy, and tutorials on how to bet and make a profit, it is silent about its ownership and brand information. Also, we missed a casino and lucky numbers betting.
Our Take on SportyBet– Should You Sign Up?
So should you sign up at SportyBet? Of course you should if you don't mind a bit of clutter and the absence of online casino games, online lotteries, and online lucky number betting. The best feature of SportyBet is quick registration. They can get you started in no time. And if you have a Facebook account, you can use it to login to SportyBet Kenya.
We spent a few days at SportyBet Kenya, placing bets, claiming bonuses, and testing the customer support. We found nothing much to complain about. The online betting site's registered players seem to be pleased with its services. So we don't hesitate to recommend SportyBet to Kenyan online betting enthusiasts.