Mozzart Bet Kenya holds a license from Mozzartbet Kenya Limited. The site interacts directly with the clients; thus, it is among the best in customer experience. Due to its excellent betting environment, this company's popularity has been on the rise within a very short period. As of the time of this writing, this online company has set up two betting shops in the capital city of Kenya, Nairobi.
The games you can gamble include American football, baseball, boxing, soccer, tennis, water polo, rugby, hockey, volleyball, lotto, and virtual games.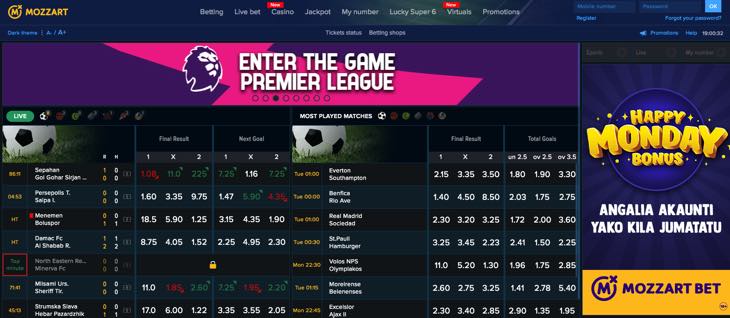 There is an online casino at Mozzart Bet, where you can gamble and win on the spot. Some of the online casino games available in this bookmaker include Roulette pragmatic, Mustang Gold, Fire strike, Chilli Heat, Great Rhino, Queen of Gold, etc.
Why choose Mozzart Bet?
A fascinating aspect of this site is that it allows two withdrawal methods. You can withdraw through the website or at one of their betting shops. Besides, the website design is simple and convenient for use by everyone. Multiple bonuses and live-bet options are making it a favorite among many bettors in Kenya. Additionally, there are several discounts and bonus events, including the lucrative jackpots that significantly increase enrollment.
How to register at MozzartBet?
You can create an account at MozzartBet in two ways.
First, you can use the website.
Load the official website on your device, whether a phone, tablet, or computer.
There is a register button somewhere on the upper edge of the webpage. Click it and feed your valid phone number.
Create a unique password.
Ensure the number you are using to register is with you and active. The MozzartBet system sends an activation code to this number, and after that, you have to fill in some necessary personal details.
You now have a MozzartBet account. You can place deposit funds and move on to place your bets.
The second way to register at MozzartBet is through mobile.
It is easier and straightforward than using the website. All you have to do is to text 'WIN' to 29990.
The system sends you a password and a pin code to access your account, either through phone or website.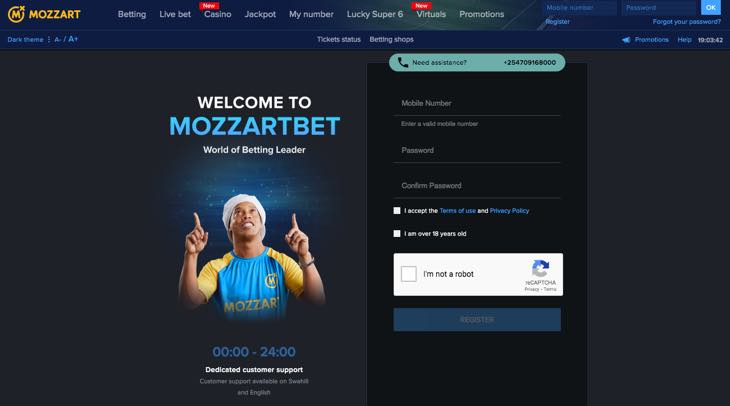 Welcome Bonus
Mozzart Bet has several sportsbook promotions for its clients. However, there are no welcome offers at the time of this writing. MozzartBet comes with a lot of opportunities for Kenyan players when it comes to penalties. If you are a starter, it is interesting to note a daily jackpot of ten million Kenya shillings. Besides, players can pocket other huge rewards daily.
MozzartBet also provides high odds and a great promotion bonus. There is a bonus 1,000 offer that allows you to earn up to 1000% cash prize on the winnings you get during happy hour. There are about 750% bonuses that you win in normal times. Although Mozzart Bet offers wide sports varieties to lure their clients, most of their players in Kenya stick to football since it is the most popular sport in the country.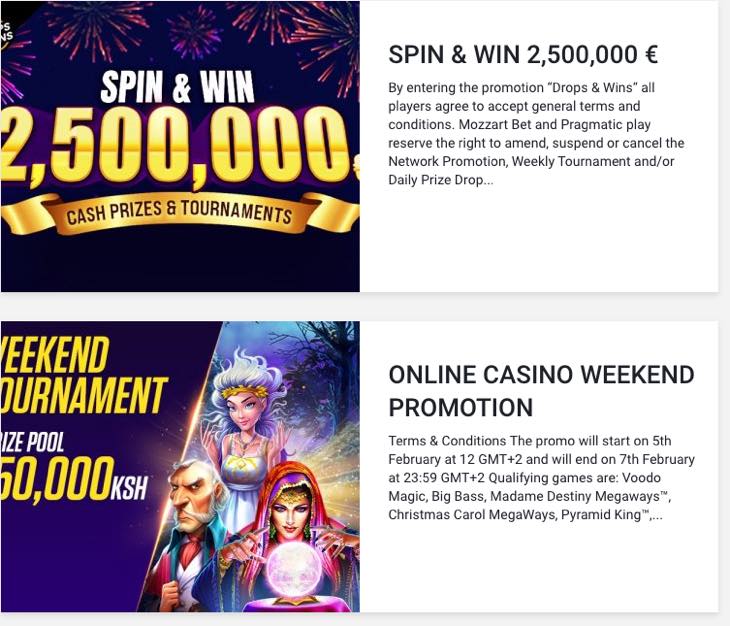 Average Cash Out Time
You can make instant payments at MozzartBet. There is a Pesa Mkononi service that allows players to withdraw and deposit funds at no extra cost. All you need is to visit a Pesa Mkononi shop outlet and carry out your transactions.
Who owns MozzartBet?
This bookmaker belongs to MozzartBet Kenya Limited. The parent company is Mozzart Limited, whose headquarters are in Serbia. This sportsbook operates legally and holds license number 671 from the Kenya regulatory body, Betting Control and Licensing Board (BCLB). Therefore, you have nothing to worry about when staking with this bookmaker.
Bonuses
There are numerous exciting promotions at MozzartBet. Among them is the abovementioned bonus of 1000%. This promotion allows you to bag bonuses from all your bets commencing from regular hours 26% to happy hours, 1000%. The latter runs from 8 pm to 10 pm and 9 am to 11 am if you are using the MozzartBet shops.
When betting online or through SMS, happy hours runs from 11 pm to 1 am, and 6 am to 8 am. For you to get these bonuses, your stake selections need to be 1.35 on the lower limit. Additionally, the best slip needs to have a minimum of four selections for normal time and three selections for happy hour.
Another bonus at Mozzart Bet is the accumulator refund promotion. An acca consisting of at least four games, and it happens that one of the selections does not go through, you receive a refund depending on the initial staking odds. In case you have winning odds of at least 29, then you get one multiplier on your stake. If the winning odds are at least 99, you receive a refund of five.
Finally, you get a lucrative refund of 100 times for winning odds of 999 and above. Note that there is a deduction of the game's odds that you lose from the total before calculating a refundable stake. Besides, live, and systems bets are not eligible for this promotion.
MozzartBet has a very exciting daily jackpot consisting of predicting the final results for 13 soccer matches, which the bookmaker selects in advance. If you predict the thirteen matches correctly, you get a reward of ten million shillings. If you fail to predict one correctly, there are one hundred thousand shillings for you. in fact, there are prices for the eight correct guesses and above. For you to participate in this promotion, there is a fee of fifty shillings.
How to place a bet at MozzartBet?
You can place a bet at Mozzart Bet in two ways.
Through SMS
Single Bet
To place this bet, you text the following: "GameID#Prediction#Stake" to 29990. Let's say the game ID ids 6658, and you wish to stake Ksh 100 for a prediction P. you put in the text as 6658#P#100. The sportsbook sends you a confirmation message, and you get to know the amount you can win.
Multi-Bet
If you wish to place a bet for multiple predictions, your text: "GameID #Prediction #GameID #Prediction #Stake" to 29990. Take, for instance, the game ID for prediction two is 8700, while that for prediction one is 6500, and you wish to stake Ksh 100. You put the text as follows 8700#2#6500#1#100. You use the procedure even when you wish to place a bet for as many predictions as you wish.
Online
Single Bet
You can as well place an online bet at Mozzart Bet. The first step is to access your account. Then find the match that you wish to stake on. The odds display, and you need to click on them against a favorite market to move it to a bet slip somewhere on the far right. Feed the amount you wish to gamble on the slip and finish the process by clicking on a place bet. Your single online bet is now set.
Multi-bet
For a bet consisting of several predictions, the first step is obvious, accessing your account. Then chose the match you wish to stake on. Select the odds against your favorite market to move it to the best slip. You repeat the process for as many stakes as you wish to gamble. Finally, set up your multi bet by clicking on a place bet.
Single bets allow you to gamble on a single match. The options of the guess include double chance, draw, or a single team win. You have a high chance of winning on a single bet, although the amount you can win is not as high as in a multiple bet.
Multibet allows you to stake in different matches. The amount you can win increases with an increase in the number of games you wish to wager. You can give a different guess, e.g., draw, double chance, or one team winning for each match.
The other popular type of bet in Mozzart Bet is the jackpot. From a small stake, you can be lucky to bag a lucrative amount of money. On this betting site, you find varying jackpot options. Super jackpot is the top bets and allows you to bag ten million shillings if you make correct predictions on 13 matches.
Sports
Soccer is the most popular match among Kenyan bettors. But generally, the markets are significant with a lot of fixtures in a day and even more games during the weekends. Besides soccer, Mozzart Bet also allows players to bet on tennis, virtual games, and lottery. Esports is rare in Kenya, and in Africa bit this sportsbook allows you to bet on it.
MozzartBet Bookmaker Odds
A comparison of odds between betting sites is crucial for players. Generally, most of the companies offer a 95% payout rate for every stake. Therefore, for the money you gamble all the time, the bookmakers have five percent to part with. Mozzart Bet has average odds. An exceptional element is the supercharged odds, an offer that allows winning big with lucrative odds. Three categories exist, which are Super 6+1, Super 8+1, and Super 4+1. To qualify for them, you pick the number of matches from the normal offer and select one game from each category's supercharged selection.
How to deposit and withdraw?
You can cash in at Mozartbet in two ways. First, you can send your preferred amount to the bookmaker's pay bill number. It is an easy way of depositing funds. Another option is through the use of Pesa Mkononi that allows free withdrawals and deposits. It is possible through their betting shops located in different locations in the country. If you can access any of them, you can deposit money into your account for free. It gives you a chance to interact with the team working in the outlet, and you can also place your bet here.
How to withdraw?
You can make a withdrawal in different ways. One of the methods includes typing an SMS as follows: W#АMОUNT#РIN and sending it to 29990. To withdraw from MozzartPesaMkononi, you text: R#2000#2009#5850. R is a command to withdraw through this option. 1000 is the amount you wish to cash out, while 2009 is a POS number that identifies the MozzartBet shop form where you wish to withdraw your cash from.
The last figure, 5850, is your PIN code through which you access your account at this sportsbook. Another option through which you can withdraw funds at MozzartBet is through their website. You log in to your account; select withdraw and follow the instructions.
Besides, you can decide to visit a MozzartBet shop and make your withdrawals from there. The lowest amount you can cash out from this sports betting site is Ksh 20 on multi bets. On the upper limit, you can withdraw up to Ksh 10 million.
MozzartBet Mobile App Review
MozzartBet gambling experience revolves around the use of mobile phones in registration, deposit, and other activities. It is not surprising to find this bookmaker's product customized for mobile. MiozzartBet has an application that you can download on Android. The app has all the elements you find in the website and functions without hitches.
You can easily navigate through different areas of the app and features such as match live streaming. In case your device does not support Android, you can load the site. Due to high optimization for mobile phones, punters have a great experience with it.
How can I get support?
The help section is very comprehensive. You can make a quick search on topics and frequently asked questions. Additionally, you can seek the customer support team's assistance through email, telephone, and WhatsApp. Besides, you can use social media pages on Instagram, Twitter, or Facebook. The customer is available throughout the day and week.
Why open an account?
Mozzart Bet has numerous great features. you can withdraw and deposit very quickly. Besides, the jackpot which you can participate in with Ksh 50 only is yet another fantastic element. There are live betting and virtual gaming. Punters are after lucrative offers and the happy hour bonuses at MozzartBet are among them.
Conclusion
This bookmaker is known for its competitive margins and a couple of amazing promotions. The payment options are secure; thus, punters have nothing to worry about their funds' safety. A great feature of this platform is the mobile application. It has every element and functions similar to the parent website. However, information about withdrawal and deposits is shallow.
FAQ
Is MozzartBet licensed in Kenya?
Mozzart Bet has a license from Betting Control and Licensing Board. The regulatory board in Kenya and having a license from this institution adds to the credibility of Mozzart Bet to carry out betting activities.
How to login?
You log in at Mozzart Bet using the phone number and the password you used to create your user account. Log in to the official website of this sportsbook and feed your details. Other than the website, you can log in to your account through the betting app.
Can I bet on football with Mozzart Bet?
Mozzart Bet is keen on the needs of the football fans and non-football fans too. Since soccer is the favorite sport for most Kenya punters, this site allows you to place your bets on football.
How do I bet on MozzartBet online?
To place your bet online, you have to access your account first. Once you log in, select the matches you wish to bet and fill the stake. Finally, click on the place bet to finish the process.
What payment methods are the best?
The best payment method to use in Kenya is Mpesa. Fortunately, Mozzart Bet allows bettors to withdraw and deposit through this option.
How to withdraw from Mozzart Bet?
There are different ways to withdraw. You can send the SMS W#АMОUNT#РIN to 29990. Besides, there is another option known as MozzartPesaMkononi. With this method, you withdraw to a MozzartBet shop.
What is Mozzart Bet Kenya pay bill number?
MozzartBet's pay bill number is 290059.
Do Mozzart Bet have a mobile app or apk?
Mozzart Bet has a mobile application. This app has all the features present in the website version and including live streaming. Besides, it is flawless and easily navigable.
How can I register at MozzartBet?
There are two ways to create an account. You can use the website where you access the registration form by clicking on the register button. Another way to register an account is through SMS. Send the word WIN to 29990. You receive a message on your phone containing details to log in to your account.