Summary
Cheza Cash is an online and mobile sports betting site that operates in the Kenyan market. It caters exclusively to the sports betting requirements of Kenyan bettors and offers a payment method that Kenyan customers are comfortable with—M-Pesa.
Pros
• It is a licensed brand.
• Ideal for Kenyan bettors.
• Plenty of bonuses to grab, jackpots to win, and promotions to participate it.
Cons
• Interface and the website design.
• Site takes a long time to load.
• No casino games, no virtual games, and no lucky number betting.
Cheza Cash is an online and mobile sports betting site that operates in the Kenyan market. It caters exclusively to the sports betting requirements of Kenyan bettors and offers a payment method that Kenyan customers are comfortable with—M-Pesa.
Kenyan bettors can place bets on a variety of sports at ChezaCash, including top football leagues, basketball, rugby, cricket, and others. Since Cheza Cash offers live betting services, Kenyan bettors can bet while watching their favorite games.
In addition, ChezaCash offers Kenyan bettors the opportunity to win a jackpot worth KSh 2 million by just predicting the outcomes of seven games.
Here are some reasons for Kenyan bettors to register at Cheza Cash:
Licensed and Regulated– Cheza Cash operates under a license granted by the Betting Control and Licensing Board of Kenya. In order to retain its license, it is expected to maintain the best standards of the online betting industry.
No Underage Gambling– You must be at least 18 to place real money bets at ChezaCash. The sports betting site shuts down all accounts suspected to be held by minor gamblers and forfeits their winnings.
Exclusively for Kenyans– ChezaCash is meant exclusively for Kenyans. The bonus offers, promotions, jackpots, and betting options are designed for Kenyan bettors. The site offers Kenyan mobile payment options and supports only one currency—Kenyan Shelling (KES).
Responsible Gambling– ChezaCash.com supports responsible gambling and encourages its Kenyan customers to stick to their bankroll limits. To ascertain if they are in control of their gambling activities, Kenyan customers can take a self-assessment test.
The online sportsbook helps customers stick to their bankroll limits by not permitting them to bet more than KSh 20,000 per bet slip. Customers who feel that they have become problem gamblers can self-exclude from the betting services.
Regular Identity Checks– ChezaCash undertakes regular identity checks to make sure that only bettors aged 18 and above can use its services. To register at ChezaCash, bettors have to provide copies of identification documents such as driving license, government-issued photo ID, and other documents that serve to prove identity.
Open an Account – Two Ways to Register

You can open a new account in two ways at ChezaCash, and both of them are quick and hassles free.
Register Online
The steps to register online are as follows:
Click on the red Register tab on the top right of the website.
Enter your mobile number and click on the OK button.
Input your personal information on the next page.
Select "Create Account" to setup your new account.
You will receive an SMS confirmation.
Once you receive the confirmation, you can log in to your newly created gaming account and start betting on your favorite sports.
Register Through SMS
There are just four steps to registering through SMS:
Visit ChezaCash.com on your mobile device and read its terms & conditions.
Send an SMS to 29030 with the message "WIN."
You will receive a confirmation SMS with your username, PIN, password, and ChezaCash's paybill number 290030.
Log in to your account using the PIN you received via SMS.
Bonus Offers

ChezaCash is quite generous with its bonus offers, and Kenyan players can choose from the following:
Karibu Bonus– This bonus offer is available to all newly registered players at ChezaCash. To qualify, bettors have to make a first deposit of at least KSh 200. They have to then bet a minimum of KSh 200 on 2.5 odds or place a multibet on a minimum of five games with minimum 2 odds.
When bettors qualify, the sports betting site will credit 20% of their stake to their accounts. Bettors can claim a Karibu Bonus of up to KSh 10,000. This bonus offer expires seven days after it is issued.
Deposit Bonus– To qualify for a free bet of KSh 30, bettors have to deposit at least KSh 200 and place a multiple bet on at least five games with 1.5 minimum odds. Bettors can claim up to KSh 10,000, but the bonus offer expires seven days after issue.
Bet Sare Bonus– The company credits a Bet Sare Bonus to bettors' accounts if they qualify by betting KSh 50 on five bets.
Multibet Bonus– This offer gives bettors a chance to earn some extra cash whenever they lose the multibets they had placed.
Vuta Friend Bonus– Whenever they refer a friend to the sports betting site, bettors will receive a refer-a-friend bonus of KSh 30.
How to Make a Deposit

You can use Paybill through M-Pesa to make a quick deposit into your ChezaCash account. Here is a brief guide to doing so:
Access M-Pesa on your smartphone or tablet.
Tap on the Paybill option.
Enter the Paybill number 290030.
Enter ChezaCash in the account name/number field.
Enter the amount you are going to deposit.
Confirm the details and receive an SMS from M-Pesa confirming your transaction.
As soon as ChezaCash receives your deposit, it will be credited to your account.
Financial transactions are absolutely transparent at ChezaCash. You can log in to your account any time you wish and view a statement of all the transactions you made on ChezaCash, including details of deposits, withdrawals, bonuses credited to your account, amount won, and bets placed.
How to Make a Withdrawal
You can withdraw your winnings any time you wish provided you don't have any uncleared bonuses in your account. Also, you can request payout through the same method you used to make a deposit—M-Pesa. ChezaCash conducts a variety of checks to ensure that the winnings reach the right person. In fact, ChezaCash has to verify account details before crediting payouts as part of its anti money laundering policies.
So before requesting payout for the first time, bettors have to submit identification documents to the sports betting site. ChezaCash takes up to 24 hours to process payout requests. Also, the online sportsbook charges processing fees of 10% on withdrawal of deposits that were never used for betting. If bettors try to withdraw amounts larger than KSh 100,000, the online sportsbook requires more time for account verification.
The steps to withdrawing your winnings via SMS are as follows:
SMS "W#PIN#Amount" to 29-30.
Enter your account PIN in place of PIN and the amount you would like to withdraw in place of Amount.
The online sportsbook will instantly credit winnings to bettor's M-Pesa account.
Similarly, bettors can withdraw their winnings online.
Mobile App – Bet on Your Browser
The company does not offer any native apps for iOS and Android devices. If you want to bet on the move at ChezaCash, you don't have to download any native app on your mobile device. This is because the company operates on a platform that works on desktops as well as mobile devices. No download is required to make the site work on mobile devices.
To start betting on the go, you have to visit the website on your iOS or Android smartphone or tablet. Then you have to log in to an existing account with your existing details. If you don't have a Cheza Cash account, you can easily create one on your mobile device.
You will spot no differences between desktop and mobile versions. The mobile sportsbook offers all the betting options, including the live betting options, jackpots, bonuses, and promotions that it offers on the desktop version.
Sports to Bet On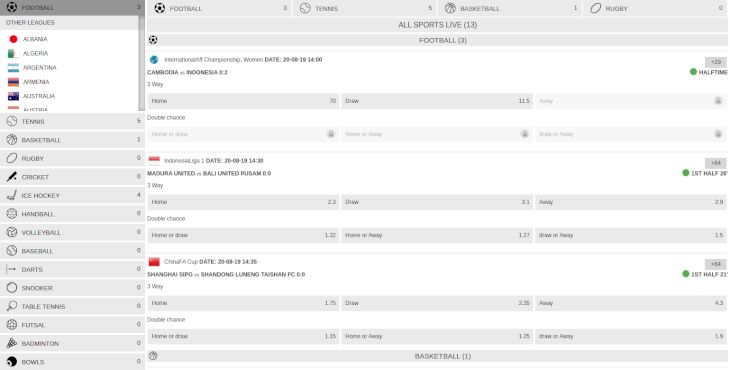 ChezaCash offers plenty of betting options along with features such as live scores and statistics.
Football Betting– Football enthusiasts in Kenya can bet on top leagues such as Serie A, Ligue 1, Bundesliga, UEFA Europa League, and other leagues. They can also bet on other leagues in Argentina, Bangladesh, Austria, Belarus, Bolivia, Brazil, and several other countries.
Other Sports– The sports betting site also offers the best odds on sports such as tennis, basketball, cricket, rugby, ice hockey, handball, volleyball, American football, Pesapallo, water polo, and boxing.
Jackpots– Bettors have to correctly predict the outcomes of seven pre-determined games to win a jackpot of KSh 2 million. The tickets cost only KSh 50.
Customer Support – How to Get Help at ChezaCash Kenya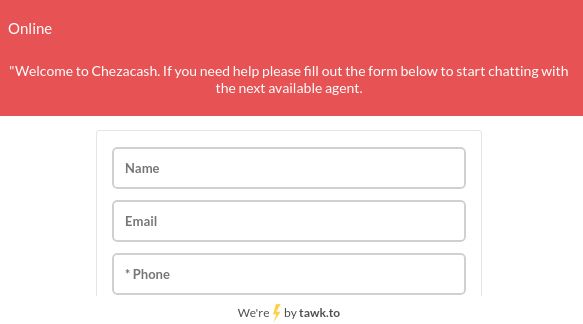 The best way to learn more about ChezaCash is to check out its terms & conditions. If you cannot find the information you are looking for, we suggest the following methods:
Live Chat– Click on the red icon on the bottom right of the ChezaCash website. When you do so, you will launch the live chat window. Enter your name, email address, and question and click on the red Start Chat tab at the bottom. A customer support agent will answer your question in an instant.
Social Media– You can also follow ChezaCash on social media. The sports betting site has accounts on Facebook (https://www.facebook.com/ChezaCash), Twitter (https://twitter.com/ChezaCash), and Instagram (https://www.instagram.com/chezacash/). You can use these accounts to interact with fellow Kenyan bettors and the sportsbook staff.
Telephonic Support– You can get telephonic support on the number 0709-978-000.
Pros & Cons
We spent a few days at Cheza Cash and were not too happy with the betting interface and the website design. Finding information is not that easy on the official website and this can be frustrating for a beginner. Moreover, the site takes a long time to load. This annoys many bettors who want to get started without any delays.
Also, we found many things missing. There are no casino games, no virtual games, and no lucky number betting. We couldn't find a link to frequently asked questions on the homepage. The contact information was tucked away in fine print at the bottom of the website and not displayed prominently on a separate page.
Simultaneously, we must admit that things are not that bleak at ChezaCash. Since it is a licensed brand, it is ideal for Kenyan bettors looking for a good online and mobile sports betting site with live betting options. Also, there are plenty of bonuses to grab, jackpots to win, and promotions to participate it. So the sports betting environment is quite lively despite the few cons we listed earlier.
Overall Rating of ChezaCash
So should you sign up at ChezaCash? If you feel that the site is capable of satisfying your sports betting requirements, you should.
Your money and personal details are safe at Cheza as the site implements the latest digital encryption and data protection technologies. You can use Paybill via M-Pesa to make quick deposits and withdrawals. And you can grab some really big bonuses.
If you are looking for a simple online or mobile sports betting service spiced up with jackpots and bonus offers, you will be quite happy. And it is precisely for this reason that we recommend ChezaCash to Kenyan bettors.