Football betting is probably the most popular betting pastime online in the world. Football is so popular that there is always some description of big game going on, practically every single day of the year. You can bet on the 'simple' stuff, like who is going to win a game, or more 'complex' matters, such as the total number of goals in the game, or even the number of corners.
This article will explain the best ways that you can get the most out of your football betting in Kenya.
How to get started – how to register at a sports betting site in Kenya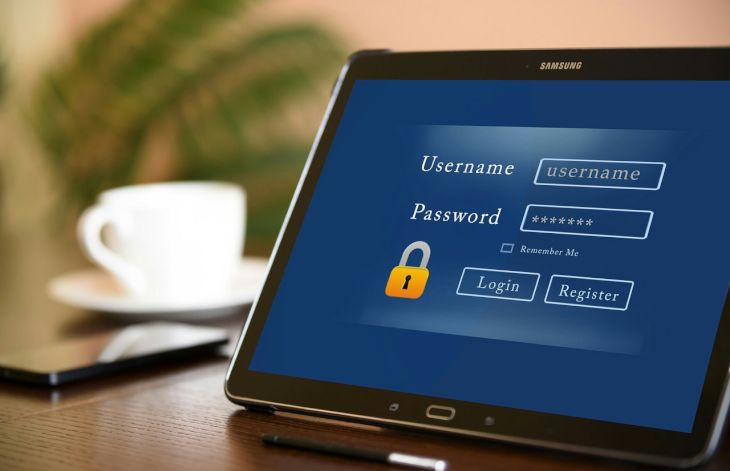 The first thing you need to be able to be able to bet on football in Kenya is membership of a sports betting site that is legally permitted to offer sports betting services to people in Kenya. All Kenyan-facing sports books must have a licence from the Betting Control and Licensing Board of Kenya. If you use a site in Kenya that does not have such a license, then you will not be able to claim back any money that you lose to them if they take money from your account.
There are usually two ways in which you can register at a sports betting site in Kenya, via the internet, or via your mobile phone.
How to register via the internet
Head to the site that you want to join and look for their registration page. As most sites actively want you to register, you should have no problems in finding the link!
Typically, all you will need to register at a site is your mobile phone number. You may also have to enter a password. Once you have filled in the details you will just need to click a confirmation button and you will be sent a confirmation code.
Enter the confirmation code at the site, and you should then receive a message confirming your account registration to your mobile phone. That's really all there is to it!
How to register using your mobile phone
It really is simple to register with a sports betting site using your mobile phone in Kenya. You will need the site's short-form text message number (usually five digits) and a key registration word. For example, to register at SportPesa using your mobile phone, all you need to do is send the registration word 'ACCEPT' to the short-form mobile phone number 79079.
You will receive back an SMS message with your username (which is usually your mobile phone number), your PIN and the paybill number of your network carrier for the online sports book. You will need the paybill number when you want to put money into your sports betting account.
Each site does things a little differently, but the process for each sports book is roughly the same.
How to get money into your betting account using M-Pesa

Some sports betting sites available in the Kenyan market will offer payments services via Visa and MasterCard, but the majority of Kenyan football bettors will expect to be able to use M-Pesa as their main means of getting money into their account. Here is how to use M-Pesa to get money into your account.
Open up the M-Pesa app on your mobile phone
Enter the amount that you want to deposit
Enter the paybill number for the sports book
Click to complete the transaction
You will receive a confirmation from the sports book when your transfer has gone through
You may also be able to deposit via an SMS number. Usually, you send a message such as DEPOSIT#500 to the site's short-form mobile number. This will transfer KES 500 to your account. You can typically withdraw via M-PESA or SMS in a similar way.
How to bet using your mobile phone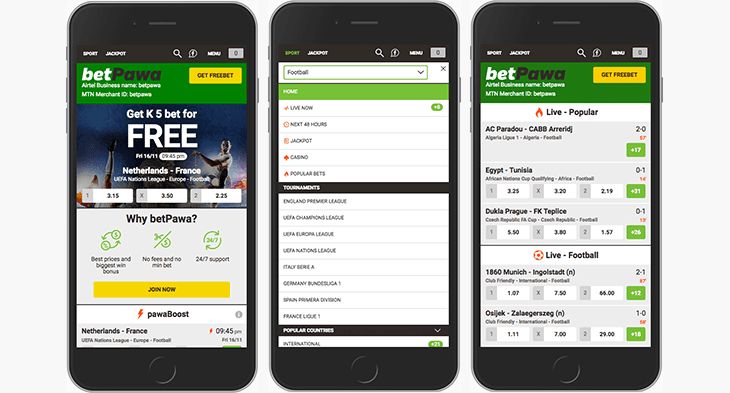 If you do not have regular access to the internet, then you can place bets via SMS messaging. How each site does this is a little different, and you may need to access the internet at least once so you can find a guide upon how to complete the SMS betting process. This is usually done by composing an SMS message in line with the site's instructions.
Each football match that you can bet upon will have a unique event id. By sending that id plus the wager you want to place and the amount you want to wager, you will be able to place a bet. There is no need to sign in to your account as the football betting site will recognise your mobile phone number when you send the message. Remember that you use your mobile phone number when you register with a site.
Which are the best football betting sites in Kenya?
#1 SportPesa Kenya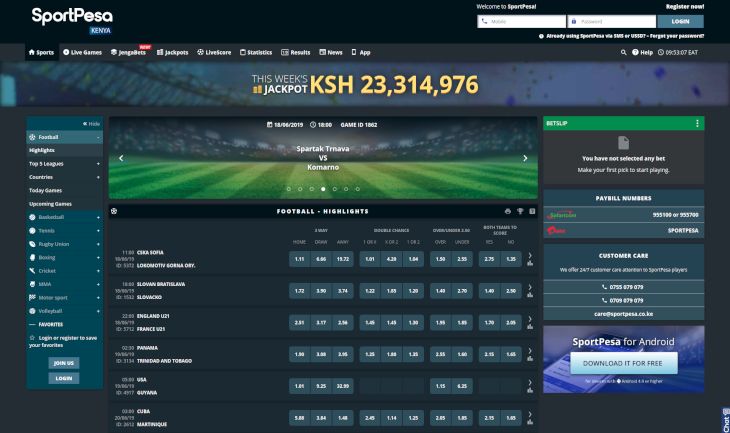 SportPesa is a global brand that allows site users to bet upon all the biggest football events all across the world. All the top football competitions are available, including domestic and continental tournaments such as the English Premier League, La Liga, Serie A, the UEFA European Champions League and the UEFA Europa League. The SportPesa site is very easy to use and offers everything a Kenyan football bettor would want.
#2 22Bet Kenya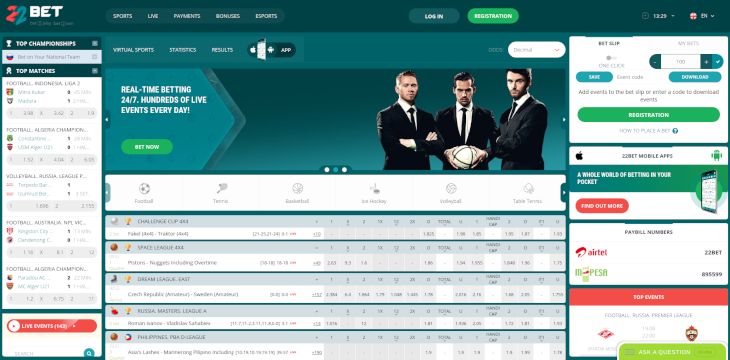 22Bet is another well-known, international brand that has been offering football betting services to football fans in Kenya since 2017. All major league and competitions are covered, including international tournaments such as the FIFA World Cup, the African Cup of Nations, the Copa America and the UEFA European Championships and Nations League. 22Bet Kenya offers a full range of extensive services for all football betting fans in Kenya.
#3 1XBet Kenya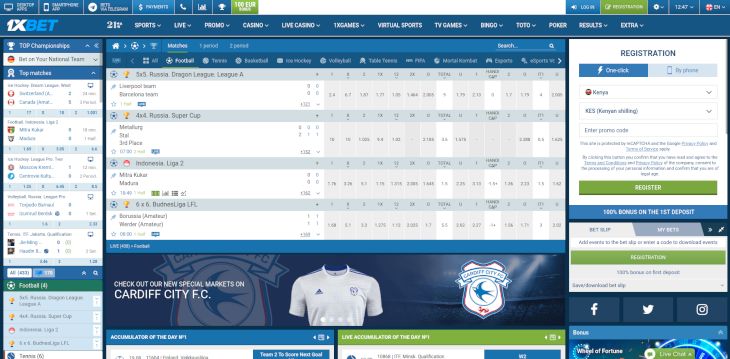 1XBet managed to establish itself as a leading football betting site in Kenya after success in Russia, Germany and Portugal. It really is a well-established brand and is an on-going football betting business in Russia with plenty of real-world betting shops. The Kenya-facing side of 1XBet is fully and properly licensed, and the football betting opportunities really are out-of-this-world at the site.
What kind of bonus offers can I expect at a sports book in Kenya?

If there is one thing that excites people about betting on football it's the prospect of obtaining a few lucrative bonuses. Unfortunately, while the internet is awash with football betting bonus offers across the rest of the world, football betting bonus offers in Kenya are actually few and far between.
Some sites – such as the aforementioned 22Bet and 1XBet – do offer football bonus deals, though. These are in the form of a welcome bonus, where any money you deposit at your first deposit at the site is matched or doubled with the same amount of bonus cash. Bonus cash is not money you can withdraw, though. You can use it to place bets, but you do not receive back your stake when your bet is settled. You are usually free to withdraw your winnings, though.
What types of bets are available when I am betting on football?
Here is a quick guide to many of the most typical bets you can use at a football betting site.
1X2
This is the most common bet that is placed at a football betting site – the prediction of the outcome of a match. '1' means that you think the home team will win, '2' means you think that thr away team will win, and 'X' means that you think that the game will end in a draw.
Draw No Bet
This is similar to 1X2 except that you can only bet on one side to win, i.e. you cannot bet on a draw. The best thing about this bet is that you get your money back if the game does end in a draw.
BTTS (Both teams to score)
With BTTS you can bet 'yes' or 'no' on both teams to score during the game. If you bet 'yes' and both teams score at least one goal, then your bet is a winner. If you bet 'no' and at least one of the teams fails to score, then you win your bet.
Over/Under
Here you bet on the total amount of goals in the game. This is typically over or under 2.5 goals. If you bet 'over' and the game contains three goals or more, then you win. If you bet 'under' and the game contains 0, 1 or 2 goals, then your bet is a winner.
Correct Score
This bet really needs no explanation. You simply predict the exact score of any football match, and if you get it right, then you're a winner!
Game outcomes
You can bet on most measurable aspects of any football match, including the amount of yellow or red cards shown, the number of corners, or the time of the first or last goal. You can also bet on the first goalscorer, the likelihood of any player to score, to score a hat-trick, to get booked or to get sent off.
If you can measure it in a game of football then you can bet on it!
Asian handicaps
Asian handicaps are a very popular way of betting on football. With any handicapping system, one team is given an artificial handicap in order to level the playing field as much as possible. You can even choose your own handicap if you want to improve your odds. If you can 'beat' the handicap, then your bet is a winner.
Should I bet on live games?
Live game betting is available via the internet and SMS. If you are watching a game and you think that something that you can bet upon is about to happen, then you can place a wager upon it. For example, if you are watching a game and the home side is winning, then you may get good odds on the away team scoring the next goal, or pulling the game back level or to even going on and winning the game themselves. You can also bet on the next goalscorer, the time of the next goal or the next player to get booked.
Live betting can make a game more interesting, plus if you really know your football you can turn a profit if you become a successful live betting expert.
What does cash-out mean?
One of the worst things about football betting is when you have a winning bet then something happens late on in the game to turn your winning bet into a losing one. You can stop this menace by using cash out, albeit at reduced odds.
Say you have bet on the home team at 2.0 to win in a game, and they are 1-0 up with five minutes to go but have had a player sent off and the away side is really battering them. The sports book could offer to settle your bet at reduced odds of 1.50. That would mean you would not win as much if the home side clung on, but you would not lose if the away side did equalise or go on to win the game.
Should I subscribe to a professional football tips service?
If you are new to football betting, then following a professional football tipping service is a good idea. You may only have to pay a small amount to use the service, plus you can see how best to bet on football games until you become used to betting on football games yourself.
Once you become a football betting expert you can unsubscribe to your football tipping service, confident that you have it within you to go it alone!
What are the best football leagues to bet upon?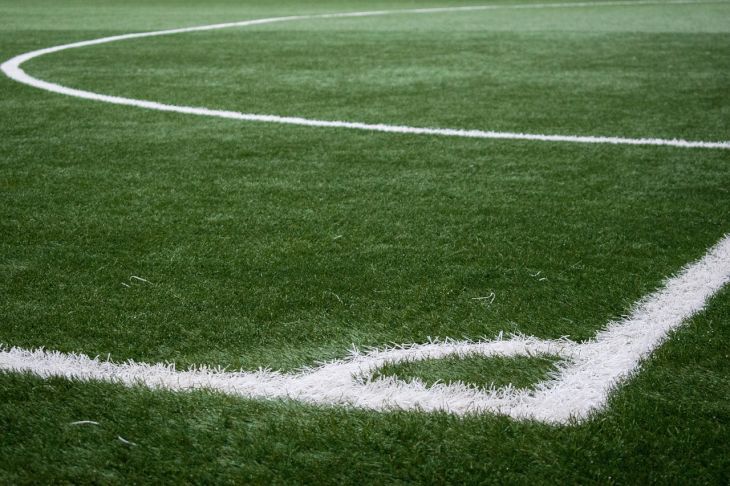 Some of the best football leagues in the world to bet upon are as follows:
The English Premier League (EPL)
One of the most popular leagues in the world, most EPL sides have an array of international talent and because the top sides are so evenly-matched, good odds are always available. The top sides in the EPL are Manchester City, Liverpool, Chelsea, Tottenham Hotspur, Arsenal and Manchester United.
La Liga
La Liga is the top football league in Spain and is typically dominated by Barcelona and Real Madrid. You can usually get good odds on decent lesser teams such as Atletico Madrid, Valencia and Sevilla beating one of La Liga's giants.
Serie A
In Italy, the top professional football league is Serie A. In recent years the league has been completely dominated by the Turin giants Juventus, but other top sides include Milan, Internazionale, Roma and Napoli are capable of beating them.
Bundesliga
The top league in Germany is another league that in recent times has been dominated by one side, this time Bayern Munich. Other leading sides in Germany include Borussia Dortmund, Bayer Leverkusen, Wolfsburg and Hoffenheim.
The SportPesa Premier League
Kenya's leading football league competition is now sponsored by the top sports and football betting site SportPesa. In recent years the league has been dominated by Nairobi-based sides such as Gor Mahia, Tusker and Sofapaka.
How do I become an expert footballer tipster?
Here are some quick tips that should enable you to get the most out of your football betting:
Don't go chasing the odds
Lots of people hunt for game outcomes with big odds. The problem is, it doesn't matter what the odds are, if you lose, you lose. It's best to settle on the outcomes you want to bet on first, then simply place your bet.
Don't go out of your comfort zone
If you know all about the EPL, it's no good then betting on the Azerbaijani Second Division. Stick to betting about what you know – you'll always find plenty of potential bets.
If you get emotional, take a break
If you get emotional then you will stop thinking straight. A string of losses is hard to take, but don't 'tilt' and then go betting on outcomes in the hope of winning your money back. Just take a break and have faith that your losing streak is temporary.
To be successful, it takes hard work
If you genuinely want to make money football betting, then it's not going to come easy. You are going to have to learn all about the teams, the games, the league and the potential markets. Only when you have truly done your homework will you know the best ways in which you can bet.
Keep in touch with the news
One of the best ways of making money with football betting to keep an eye on the football news. Perhaps a key player is injured, suspended or unsettled for one side. Maybe a team has an important game coming up and the manager may rest a few players for a less-important tie? It pays to know, and will pay you in winning bets!
Conclusion
Football betting is easy to do, entertaining and exciting as long as you bet responsibly and never chase your losses. There are plenty of ways in which you can bet on football and plenty of places where you can bet.
Enjoy your football betting and the best of luck!