KwikBet is a mobile and
online sports betting service that offers excellent odds on sports
such as football, tennis, rugby, and basketball. The operator of KwikBet is Solami Limited, a company that functions under a license issued by the Betting Control and Licensing Board of Kenya.
Here are a few reasons for Kenyan bettors to sign up at KwikBet:
Simple User Interface– KwikBet is popular for its simple, but professional website design. Since it is uncluttered with too many features, bettors can place bets and make deposits and withdrawals without too much of navigation.
SMS Registration– Although bettors can register online if they wish, KwikBet offers a simpler option—SMS registration. Bettors who wish to register only have to send an SMS with the message "KWIKBET" to 29028. They will soon receive an SMS confirmation that their accounts are ready and that they can start betting. Similarly, bettors can make deposits and withdrawals, place sports bets, and also check their balance through SMS.
Safe & Secure– Kenyan bettors can rest assured that their account is safe and secure as KwikBet takes all the required measures to protect their data.
Affordable– Bettors who register and bet through SMS will be charged a nominal fee of KSh 2 for every SMS they receive.
Dispute Resolution– KwikBet advises bettors who have complaints to contact customer support through email or phone. If they are not happy with the way KwikBet deals with their complaint, they can address their complaints to the Betting Control and Licensing Board (BCLB).
How to Open a New Account at KwikBet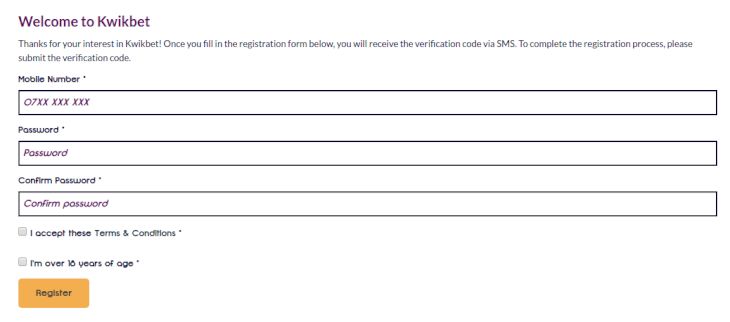 Registering a new account at KwikBet is a simple procedure. The following step-by-step guide will help you get registered in a matter of minutes.
Click on the orange Join Now button on the top right of the casino website.
This opens the online registration form on your screen.
Enter your mobile number.
Create and confirm a strong password.
Accept the online sports betting site's terms and conditions.
Confirm that you are above the age of 18.
Click on the Register button at the bottom of the online registration form.
Once you have filled in the online registration form and clicked on the Register button, KwikBet will send you a verification code through SMS. You have to enter the verification code in the field provided to complete the registration procedure.
You can now log in to your newly created account and start betting on your favorite teams, players, and leagues.
Bettors can open only one account at KwikBet. If a bettor opens multiple accounts and it comes to the notice of the online sports betting site, it will shut down all the extra accounts and confiscate the winnings, bonuses, and even the deposits.
The Company also requests bettors to submit documents to verify their identity and gaming activity and to conduct security checks. The online sportsbook mostly uses mobile phone numbers to verify its customers' identity and account details. If someone else places bets on your phone, you will still be held liable for their actions.
Players can place bets on KwikBet only if they are at least 18 years old. The online sports betting site requests proof of age to discourage underage gambling. It shuts down accounts created by underage players and forfeits the balance in their accounts. Any KwikBet customer who suspects that one of their fellow bettors is underage can report to the KwikBet customer support through telephone or email to [email protected]
Bonuses and Promotions

If you are looking for a number of bonuses and promotions to spice up your sports betting activities, KwikBet is going to disappoint you. At the time of writing, the focus is not on bonus offers and promotions. The main priority of the company is sports betting experience. You just have to register, log in, and bet on your favorite sports teams, leagues, and matches.
KwikBet's sports betting product does not integrate betting on online casino games, lucky numbers, lotteries, live games, and others. The only exciting thing, apart from online and mobile sports betting, is the weekly jackpot, which gives Kenyan bettors an opportunity to win as much as KSh 1,000,000 for making the correct predictions.
KwikBet suggests on its terms & conditions page that it offers a bonus, but does not provide any details of the same.
How to Make a Deposit

Bettors can use M-Pesa to make a deposit at KwikBet, and here is a step-by-step guide for doing so:
Navigate to M-Pesa on your mobile device and select Paybill.
Input the number 290028 and the account number KWIKBET.
Enter the amount that you would like to load into your account.
Enter your M-Pesa PIN and tap on Send.
M-Pesa will confirm the transaction through an SMS.
KwikBet will instantly credit your deposit to your account.
You can now use your deposits to place bets and win big.
While the M in M-pesa stands for "mobile," pesa means money in Swahili. As its name suggests, M-Pesa is a mobile money transfer service, which was established by Vodacom and Safaricom in 2007. The service quickly expanded to countries such as Albania, Romania, South Africa, and Afghanistan.
Kenyan bettors can use this service to not only load their gaming accounts, but also withdraw winnings, transfer funds, and make payments for products and services on their smartphones or tablets.
How to Make a Withdrawal  
You can easily withdraw winnings from your KwikBet account using M-Pesa. KwikBet processes payout requests as soon as it receives them, so bettors will not have to wait long to receive their winnings.
Bettors have the option of withdrawing through SMS or online. If they choose to withdraw through SMS, they have to send the message "WITHDRAW#amount" to the number 29028.
If they choose to withdraw online, they have to log in to their KwikBet account, click on the Withdraw option, enter the amount they would like to withdraw, and click on the "Withdraw Now" option.
Bettors have to withdraw a minimum of KSh 50. If they have received a bonus, they will not be able to withdraw their bonus amount.
The withdrawal charges are KSh 15 for withdrawals in the range of KSh 50 – KSh 1000, KSh 25 for withdrawals in the range of KSh 1001 – KSh 2500, and KSh 33 for withdrawals in the range of KSh 2501 – KSh 70,000.
Mobile Apps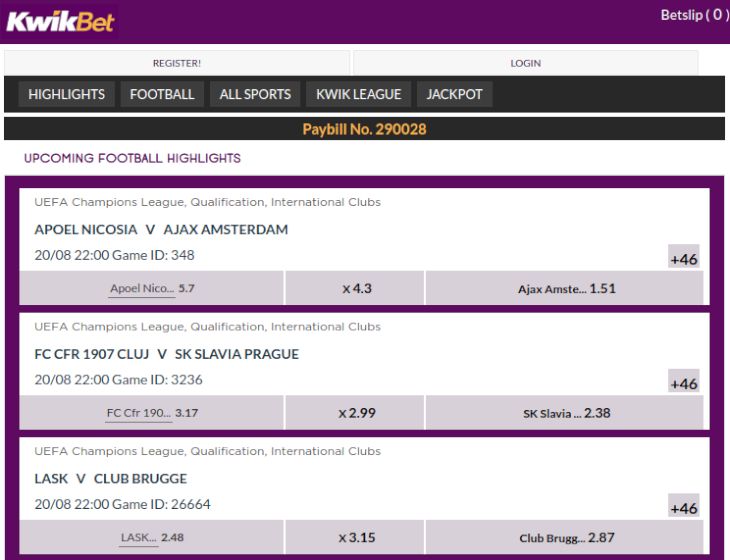 KwikBet has not created any dedicated mobile sports betting apps for iOS and Android devices, but it has been designed for use on desktops as well as smartphones and tablets.
Bettors can easily access the online sports betting site on their smartphone or tablet browser and log in to an existing account with their mobile phone number and password. If they haven't yet created an account at KwikBet, they can easily create one with their mobile phone number on their mobile devices.
KwikBet functions on mobile phones just as it functions on desktop computers. The mobile sports betting site has a user friendly interface and a simple, but professional design. The links to the site's services and features are easily visible, making it very easy for bettors to place bets on their favorite sports events and collect big winnings.
Betting Markets

Kenyan bettors can place bets on a wide range of sports markets, as follows:
Basketball– The online sports betting site offers the best odds on basketball matches played in countries all over the world, including Hungary, Israel, Italy, Greece, Estonia, Turkey, Spain, and Portugal.
Rugby– Place bets on the Rugby League and the Rugby Union.
Football (soccer)– Bet on soccer matches played in countries such as Belgium, Brazil, Croatia, Colombia, Belarus, and Argentina.
Tennis– Betting options are available for the ATP, the Challenger, the ITF Men, the ITF Women, and the WTA.
In addition, KwikBet offers the following features:
Kwik League– Kenyan bettors can place bets on the Kwik League teams and win big money once in three minutes.
Jackpot– Every week, KwikBet gives bettors the opportunity to win a jackpot worth KSh 1,000,000. Bettors have to correctly predict the outcomes of seven previously determined matches to win the above-mentioned jackpot. They have to place a bet of at least KSh 30 for every prediction they would like to make.
Customer Support

We could identify the following ways to get in touch with a customer support representative at KwikBet.
Email– Bettors can email their feedback, comments, complaints, issues, or questions to KwikBet at [email protected]
Telephone– KwikBet offers telephonic support 24/7 on the number 0709332028.
Retrieve Forgotten Password– If you have forgotten your password, just click on the "Forgotten Password" link below the login fields to reset your password. You just have to enter your mobile number to get the reset code through SMS.
Social Interaction– KwikBet encourages bettors to interact with staff members and fellow bettors on its accounts on social networking sites Twitter (https://twitter.com/kwikbet_kenya) and Facebook (https://www.facebook.com/Kwikbet).
Pros & Cons
If simplicity is what you are looking for, KwikBet is the ideal mobile and online sports betting site for you. It offers an exciting sports betting service that is spiced up by the presence of a weekly jackpot.
If you are looking for casino games, lucky number betting, live games, and other features, you will get bored with KwikBet in no time. While we appreciate the fact that KwikBet has a user friendly interface, excellent customer support, and social media presence, we feel that the online sportsbook is too basic for a fun-loving Kenyan bettor. There are no bonuses to grab and no promotions to participate in.
Sign up at KwikBet if you are interested in a clean mobile and online sports betting product uncluttered with special features. You can rest assured that KwikBet is a licensed and well-regulated brand that enjoys excellent reputation in the Kenyan sports betting community.
Overall Rating

We give KwikBet a high rating for being an excellent online and mobile sportsbook. What makes it stand apart from the crowd is the absence of several things. We wouldn't recommend it to players looking for the rich gaming experience delivered by the presence of promotions, cashback offers, and betting options such as online casino games, live games, jackpots, and lucky numbers as KwikBet offers none of these.
While you won't find native apps for iOS and Android, you are also saved the bother of downloading and installing an app on your mobile device. You can place sports bets right on your browser.
The betting site is also special because of its simple user interface. The sports betting service allows you to bet on sports, make deposits and withdrawals, and predict match results for jackpots without too much of navigation. In brief, it is a neat, uncluttered, easy-to-use mobile and online sportsbook.
If placing sports bets on your mobile device is all that you want, we suggest that you sign up at KwikBet right away.